Tai Chi for Arthritis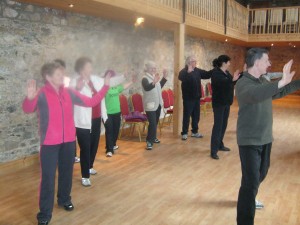 It is well documented that regardless of age, a consistent exercise routine is important to stay fit and healthy.  Tai Chi for Arthritis is a form of exercise that helps improve muscular strength and joint flexibility, it reduces pain and stiffness of joints and improves overall health.
Frank Murphy uses this Tai Chi for Arthritis programme for his more senior members. Many find it enjoyable and beneficial because it can be done without too much strain, and it also can be done seated if a person has difficulty with balance or is less mobile.
Exercise for Older Adults
Tai Chi is an appropriate exercise  for elderly people and helps maintain cardiovascular fitness. The promotion of heart health ensures that blood continues to pump to vital parts of the body such as the brain which in turn may help reduce the onset of dementia or  prevent the possibility of a stroke in elderly people. Other benefits of gentle regular exercise  include the maintenance good body posture, balance and flexibility.

The Tai Chi for Arthritis programme was developed by Dr. Paul Lam and has proven to reduce pain and improve the well being of Arthritis sufferers regardless of age. The stances are more upright and easier to perform, particularly for more elderly people. You can find out more about Dr. Paul Lam's Tai Chi for Arthritis by visiting this link www.taichiforarthritis.com.
 For more details or to book a group of classes for your club or community group, at your preferred time and venue, contact Frank on 022 40884 or 0872704478. Alternatively, complete the contact form.